Judge-Marshal Koburn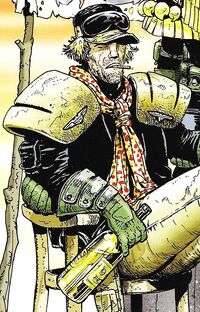 Current alias
Judge-Marshal Koburn
Characteristics
Status
Origin
History
As he is too much of a maverick for the streets of Mega-City One, Judge-Marshal Koburn is charged with administering justice in the Cursed Earth. His solemn duty is to bring law to the lawless, unto death. And if building good relations with the local community means drinking, smoking and carrying out in-depth inspections of houses of ill repute, well, that's the price a dedicated Judge sometimes has to pay.
Koburn says that he volunteered for his post — meaning it wasn't a demotion, a punishment or an attempt to escape being sentenced to Titan — after punching a deputy sector chief who was trying to give him a warning for breaching uniform code even though he had "the best arrest record in the whole damn hab-zone." He prefers the Cursed Earth to life in the Big Meg because there are fewer petty regulations and jobsworths trying to prevent a man from being a good Judge. Dredd, however, says that Koburn would have been sent to Titan if Chief Judge Hershey hadn't decided to give him one last chance.
For a while Koburn had an assistant, Judge Bonaventura, who was sent to the Cursed Earth after shooting a member of the Special Judicial Squad whom she had mistaken for a criminal, causing him to lose four toes. After she had helped Koburn to defeat Malachi, a zombie created by Judge Fear, he recommended that she be returned to city duty as "whatever she did to be sent out here, she's more than made up for." Koburn's current assistant is a volunteer called Judge Alonso.
Koburn has worked with both Judge Dredd and Judge Rico in the past. He and Dredd (whom Koburn describes as having "a daystick up his butt") can't stand each other, but he gets on slightly better with Rico.

Powers and abilities
Abilities
Laying down the law; armed and unarmed combat.
Strength level
Peak human male.
Weaknesses
Alcohol; cigars.

Paraphernalia
Equipment
Illegal stimulants.
Transportation
Customised car; skimmer.
Weapons
Sniper rifle; Lawgiver.

Notes
Cursed Earth Koburn is actually an updated version of old World War II character Major Eazy from Battle Picture Weekly. He has appeared intermittently in the Judge Dredd Megazine since 2003, and his exploits are collected in volume 67 of Judge Dredd: The Mega Collection.

Trivia
Koburn first appeared in the story Sturm und Dang (a pun on the German phrase 'Sturm und Drang', meaning 'Storm and Drive/Urge').
Links
Discover and Discuss