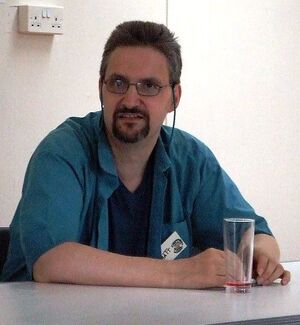 Matt Brooker is a polyonymous British comics artist, writer and colourist who won the 'Favourite Comics Artist: Inks' award at the Eagle Awards in 2008. He is also known as D'Israeli; D'Israeli D'Emon D'Raughtsman; Molly Eyre; Harry V. Derci and Digital Derci. His blog is
here
. D'Israeli has produced work for
Revolver
('God's Little Acre');
A1
;
Blast!
(
Lazarus Churchyard
); Vortex Comics (
Mister X
) and
Tank Girl
, and has inked five issues of
Neil Gaiman
's
The Sandman
.
For 2000 AD D'Israeli has worked on:
For the Judge Dredd Megazine he co-created Scarlet Traces (which moved to 2000 AD); XTNCT and Ordinary.
According to Ian Edginton, D'Israeli is "a genius. He can take a five-line panel description and turn it into something divine and extraordinary... To my mind D'Israeli has a place up there in the legendary pantheon of Kevin O'Neill, Mike McMahon and Cam Kennedy. He is what 2000 AD is all about." (Thrill-Power Overload by David Bishop.)
Notes
In the Stickleback episode of 2000 AD prog 1911, drawn by D'Israeli, prime minister Benjamin D'Israeli gets a barnstorming punch-the-air speech about how England will never give in to alien tyranny. This is slightly undermined when Queen Victoria interrupts in order to give in to alien tyranny.
Ad blocker interference detected!
Wikia is a free-to-use site that makes money from advertising. We have a modified experience for viewers using ad blockers

Wikia is not accessible if you've made further modifications. Remove the custom ad blocker rule(s) and the page will load as expected.