D-Day Dawson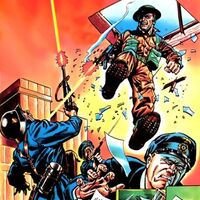 Real name
Sgt. Steve Dawson
Current alias
D-Day Dawson
Characteristics
Unusual features
Bullet in heart
Status
Origin
History
On 6th June 1944, Sgt. Steve Dawson was shot by a Nazi bullet on the beaches at Normandy. He survived, but was left with a bullet pressing on his heart, a bullet which could not be safely removed — but which his doctor told him would enter his heart and kill him within a year. A devastated Dawson was officially invalided out of the war, but the boat carrying him home was sunk with all hands, Dawson the sole survivor... and with nobody else still alive who knew about his condition, he elected to keep it a secret, rejoin his unit and keep on fighting! Under a death sentence known only to himself, Dawson led his men on towards Berlin, and a seemingly unavoidable date with destiny. Later, wounded again, Dawson was awarded the Victoria Cross but ultimately, just days from the end of the war, the bullet in his heart reached its target. The dying Dawson, in a final act of bravery, laid down his life to save his men, and was last seen walking back into the waters off the North German coast.

Powers and abilities
Abilities
Fighting.
Strength level
Injured human male who gets regular exercise.
Weaknesses
This one kind of speaks for itself, really.

Paraphernalia
Weapons
Yes.

Notes
Links
Discover and Discuss