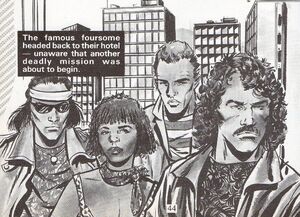 Dial A Dawn Destructor (D.A.D.D)
was a strip which ran in
Fleetway
's
Eagle
comic in the 1980s. It concerned the rather unlikely nocturnal crimebusting activities of pop group Dawn Destruction and its members: lead guitarist Big Chew Charley Carver, Harlem born singer Missy Troll, keyboard king Iceberg Slim Rodell and bass guitarist Girl Pete (who was a bloke). Their slogan was "The law's good, the law's the best, but if you've got a problem the law can't handle... ask DADD for help. Call Priory 743809... after dark."
And yes, we were indeed meant to take this seriously.
Ad blocker interference detected!
Wikia is a free-to-use site that makes money from advertising. We have a modified experience for viewers using ad blockers

Wikia is not accessible if you've made further modifications. Remove the custom ad blocker rule(s) and the page will load as expected.