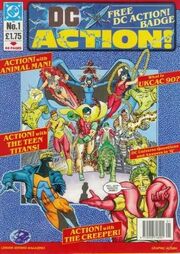 DC Action was a short lived bi-monthly British DC Comics reprint title published between January and November 1990 (six issues in total) by
London Editions Magazines
. It featured reprints of American material including Marv Wolfman and George Perez's
New Teen Titans
from the early 1980s,
Grant Morrison
's
Animal Man
and strips from
Secret Origins
starring
The Creeper
and
The Manhunters
, the latter followed in the last two issues by
The History of the DC Universe
by George Perez. There were also various illustrated text features on the more bizarre corners of the DC Universe, the history of the
Justice League of America
and DC heroes on film, amongst other things. The title was aimed at an older readership than the monthly
Superman
and
Batman
monthlies, and following its cancellation the Animal Man series transferred to the mature readers title
Shockwave
.
Cover Gallery
Ad blocker interference detected!
Wikia is a free-to-use site that makes money from advertising. We have a modified experience for viewers using ad blockers

Wikia is not accessible if you've made further modifications. Remove the custom ad blocker rule(s) and the page will load as expected.