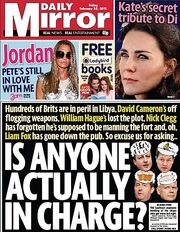 The Daily Mirror is one of Britain's longest running and most successful tabloid newspapers, founded in 1903. It has run comic strips for most of its history, notably
Jane
(Britain's most popular newspaper strip during World War II),
Garth
(One of the longest running newspaper strips of all time),
The Perishers
(which spawned its own TV spin-off cartoon series),
Belinda Blue Eyes
and the seemingly immortal
Andy Capp
, but also including
Horace
,
Real Life
, ladette single mum
Mandy Capp
, long running football strip
Scorer
and private eye
Romeo Brown
. In 1998 a selection of strips were published by Hawk Books in
The Mirror Classic Cartoon Collection Vol 1 1
.



Ad blocker interference detected!
Wikia is a free-to-use site that makes money from advertising. We have a modified experience for viewers using ad blockers

Wikia is not accessible if you've made further modifications. Remove the custom ad blocker rule(s) and the page will load as expected.