Zeg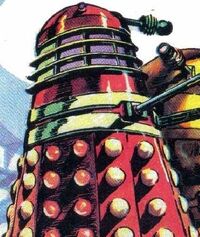 Characteristics
Unusual features
He's a Dalek
Status
Origin
History
Zeg was a Dalek engineer who tried to find a means of strengthening his people's Dalekanium casings. An accidental explosion caused by a freak storm irradiated him, making him almost invulnerable (and turning his casing red). His mind affected by the accident, Zeg rebelled against the Dalek Emperor, challenging him for supremacy. The two duelled, but Zeg proved vulnerable to the extreme cold of liquid oxygen, which the Emperor used to destroy him.

Powers and abilities
Powers
Highly intelligent and almost invulnerable.
Strength level
Superdalek.
Weaknesses
The extreme cold of liquid oxygen.

Paraphernalia
Transportation
Dalek travel machine.
Weapons
Dalek gun.

Notes
Zeg was a character in The Dalek Chronicles.
Links
Discover and Discuss
Ad blocker interference detected!
Wikia is a free-to-use site that makes money from advertising. We have a modified experience for viewers using ad blockers

Wikia is not accessible if you've made further modifications. Remove the custom ad blocker rule(s) and the page will load as expected.