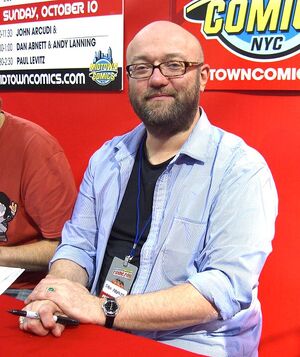 Dan Abnett, whose website is
here
, is a comics writer who was born on 12th October 1965 and is not yet dead. He has been active in the industry since the 1980s (after graduating from Oxford University in 1987), when he worked for
Marvel UK
on titles including
Doctor Who Magazine
,
Transformers
,
Action Force
,
The Real Ghostbusters
and
ThunderCats
. He created the
Knights of Pendragon
, later revamping
Death's Head
as
Death's Head II
and writing
Battletide
,
Dark Guard
and various other strips (including the
X-Men
and various "cosmic" characters such as
Nova
) for both Marvel UK and Marvel US in the nineties and beyond.
Abnett often worked with longtime collaborator Andy Lanning (though the partnership, who were affectionately nicknamed "D 'n' A", have since parted company because of creative differences). He has also worked extensively for other US publishers including DC Comics (again, often with Lanning, on titles including Resurrection Man and Legion Lost) and since 1991 has been a frequent contributor to 2000 AD and the Judge Dredd Megazine.
Series he has written include Judge Dredd, Anderson, Psi-Division, Vector 13, Strontium Dogs, Sinister Dexter, Flesh, Venus Bluegenes, Black Light, Durham Red, Rogue Trooper, Sancho Panzer, Tharg's Future Shocks, Pulp Sci-Fi, Badlands, Grey Area, Roadkill, Malone, The Scarlet Apocrypha, Tales from the Black Museum, The V.C.s, Atavar, Kingdom, Black Atlantic, Lawless, Wardog, Insurrection and Brink. He created several of these, including the long-running and popular Sinister Dexter.
Abnett wrote the graphic novel The Lords of Misrule and the Titan Comics series Captain Kronos Vampire Hunter, and has also written a number of novels (including some based on Doctor Who and Torchwood) and several audio plays for both the BBC and Big Finish Productions. Summer 2014 saw the arrival of a big-budget movie version of Marvel's Guardians of the Galaxy, a team Abnett and Lanning revitalised in 2008. Basically, he is very, very productive. (He claims that, although there is only one of him, he is "multi-dimensional" and has clones.)