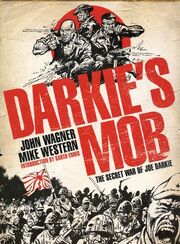 Created by writer
John Wagner
and artist
Mike Western
, Darkie's Mob first saw print in
Battle Picture Weekly
in 1976. The story of a group of British soldiers stranded in the Jungles of Burma in 1943 who are apparently 'saved' by the Mysterious
Captain Joe Darkie
for reasons of his own, it was a brutal, at times shocking story which nonetheless captured the imaginations of thousands of readers. The story ended with all but two of the Mob, including Darkie himself, dead but it returned for a one-off text story in the 1990 Battle Holiday Special.
Darkie's Mob was later reprinted in the Judge Dredd Megazine, albeit with some of the more racially sensitive language edited out, and was released in its entirety in 2011 in the Titan Books collected edition 'Darkie's Mob: the Secret War of Joe Darkie'.
Ad blocker interference detected!
Wikia is a free-to-use site that makes money from advertising. We have a modified experience for viewers using ad blockers

Wikia is not accessible if you've made further modifications. Remove the custom ad blocker rule(s) and the page will load as expected.