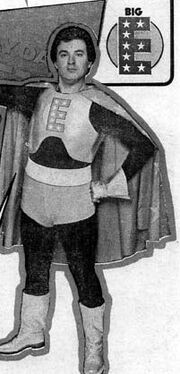 Dave Gibbons (born 1949) is a comics artist and occasional writer (and even more occasional letterer). He started in the industry working for various action and horror titles for both
D.C. Thomson
and
IPC
, though arguably his big break was on
2000 AD
, where he drew
Harlem Heroes
for the first 24 issues before moving on to
Dan Dare
,
Ro-Busters
,
Rogue Trooper
,
Judge Dredd
,
Ro-Jaws' Robo-Tales
and
Tharg's Future Shocks
among others. He also drew
Doctor Who
(see below) for
Marvel UK
from 1979, and some material for
Warrior
in the early 1980s.

Gibbons later went on to have a successful career with America's DC Comics, working on such characters as Green Lantern and famously co-creating the hit series Watchmen with Alan Moore. He also worked fr Dark Horse Comics on Frank Miller's Give Me Liberty featuring Martha Washington. Possibly the most infamous point in Dave's career, however, was the period he spent as life model for the photographic adventures of Big E, the fictional super-editor of Tornado comic (see right). In mitigation, it should be pointed out that he probably needed the money at the time, and anyway, they can't touch you for it ...
In London in 2011 Dave Gibbons helped to set two Guinness World Records, 'Fastest Production of a Comic Book' and 'Most Contributors to a Comic Book'.1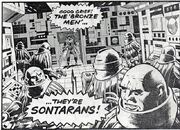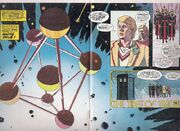 1Along with David Baillie, Douglas Braithwaite, Ian Churchill, Oliver Coipel, Duncan Fegredo, Simon Furman, Jock, David Lafuente, John McCrea, Mark Millar, Sean Phillips, Frank Quitely, John Romita Jr., Liam Sharp and Leinil Yu.