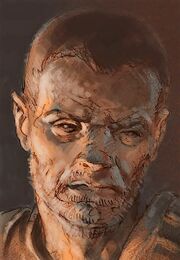 Dave Kendall is a comics artist. He has illustrated
PsychoKiller
(by
Pat Mills
and
Tony Skinner
) and
Necroscope
(published by US company Malibu), and also worked for
Toxic!
. For
2000 AD
Kendall has worked on:
According to collaborator Kek-W, "Dave's a lovely guy, but he doesn't get out much – he lives in a fog-shrouded fortress in Bristol, full of hanging chains, torture implements and a mummified head that makes fearful prophesies. He watches our world from afar through a black mirror that weeps blood. We email one another quite a bit though." (Source: an interview on Facebook.)
Ad blocker interference detected!
Wikia is a free-to-use site that makes money from advertising. We have a modified experience for viewers using ad blockers

Wikia is not accessible if you've made further modifications. Remove the custom ad blocker rule(s) and the page will load as expected.