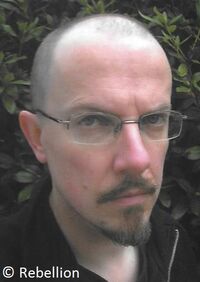 David James Bishop is a comics writer, letterer and editor from New Zealand who was born on September 27th 1966 and is not yet dead. In the 1990s and early 2000s, he worked in the British comics industry as a writer and editor, on titles including
2000 AD
(which he edited between late 1995 and mid 2000) and the
Judge Dredd Megazine
(which he edited from 1991 to 2002).
Bishop scripted stories including The Straitjacket Fits and Soul Sisters for the Megazine, the comics adaptation of A Life Less Ordinary for 2000 AD, a revival of Fiends of the Eastern Front for the Megazine, and B.L.A.I.R 1, Vector 13, Strontium Dogs, Pulp Sci-Fi, Past Imperfect and Dead Men Walking for 2000 AD. (Dead Men Walking, which Bishop co-created, was written under the pseudonym 'James Stevens', previously a character from Bishop's Doctor Who novel Who Killed Kennedy). He also co-created Space Girls. In 2000 AD prog 1034 he wrote Dan Dare 3000AD, Harlem Heroes, Flesh and Invasion! 3000AD for a special 20th anniversary supplement.
Away from the 2000 AD stable, Bishop has written The Phantom for Egmont. He is the author of several novels based on Doctor Who, Judge Dredd, Fiends of the Eastern Front and Nikolai Dante, and also wrote Thrill-Power Overload, an exhaustive and highly entertaining history of 2000 AD's first thirty years available from all good booksellers. Bishop has scripted a number of 2000 AD- and Doctor Who-related audio dramas for Big Finish Productions, including five starring the character Sarah Jane Smith.
Ad blocker interference detected!
Wikia is a free-to-use site that makes money from advertising. We have a modified experience for viewers using ad blockers

Wikia is not accessible if you've made further modifications. Remove the custom ad blocker rule(s) and the page will load as expected.