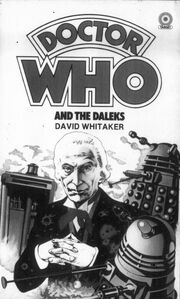 David Arthur Whitaker (18th April 1928 — 4th February 1980) was an English television writer and novelist best known for his work on the early years of the science fiction series
Doctor Who
. He was the script editor of the series for its first 51 episodes from 1963-1964 (his last story being
The Dalek Invasion of Earth
), and wrote several of the stories including
The Edge of Destruction
(1963),
The Rescue
(1965),
The Crusade
(1965),
The Power of the Daleks
(1966),
The Evil of the Daleks
(1967),
The Enemy of the World
(1967) and
The Wheel in Space
(1968), his final televised script being
The Ambassadors of Death
in 1970. He also wrote the first two
Doctor Who
novelisations,
Doctor Who in an Exciting Adventure with the Daleks
(later reissued as just
Doctor Who and the Daleks
, pictured) and
Doctor Who and the Crusaders
, as well as writing
The Dalek Chronicles
for
TV Century 21
, although the strip was uncredited and for a long time was attributed to the
Daleks
' creator, Terry Nation (yes, there
was
a reason Whitaker was included on a comics site; you just had to be patient, you see).
Ad blocker interference detected!
Wikia is a free-to-use site that makes money from advertising. We have a modified experience for viewers using ad blockers

Wikia is not accessible if you've made further modifications. Remove the custom ad blocker rule(s) and the page will load as expected.