Davie Byrd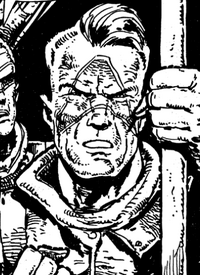 Aliases
The Butcher of Bearsden
Characteristics
Status
Occupation
Mercenary commander
Origin
Place of death
Plain of Xeses
History
Davie Byrd was a Kreeler captain who became infamous during the first mutant war when he slaughtered three thousand mutants at the Bearsden Grotto. He later faked his death, pretending to be blow up by a faulty T-Bomb. In actuality he instead became a mercenary. Middenface McNulty and Johnny Alpha later get a tip-off on his location and tracked him down. They killed most of Byrd's troops mercilessly, knowing many of them used to be Kreelers themselves. Byrd attempted to flee but he was caught by Middenface, who revealed that amongst the many he killed in Bearsden was his first pet dog Plook. Middenface strangled Byrd to death, ignoring his pleas for mercy.

Paraphernalia
Weapons
Yes.
Links
Discover and Discuss
Ad blocker interference detected!
Wikia is a free-to-use site that makes money from advertising. We have a modified experience for viewers using ad blockers

Wikia is not accessible if you've made further modifications. Remove the custom ad blocker rule(s) and the page will load as expected.