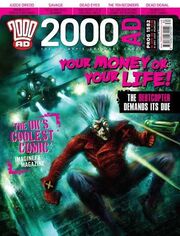 Dead Signal
is a comic strip by writer 
Al Ewing
and artist 
PJ Holden
. It was published in
2000 AD
progs 1581 to 1587, in 2008. Pictured is a
Dead Signal
cover
Nick Percival
drew for
2000 AD
prog 1582.
In the extended edition of Thrill-Power Overload, Al Ewing has this to say about the series: "I'd been holding on to the idea of a story that moved between two alternate worlds, without any indication of which one was 'real', for some time. Dead Signal was probably the most successful attempt I made at that. I liked that it was a fairly standard 2000 AD idea — televised bounty hunter, trying to get ratings to pay off the debt he'd incurred getting the equipment — which immediately took a left turn into a completely different and unconnected premise. Written down like that it looks like a bad thing, and maybe that's why it only lasted one series, but I enjoyed it. PJ's art was perfect — solid enough for a classic 2000 AD feel when required, but able to follow the story into whatever flights of fancy were required."
The series was reprinted in Dead Signal Vol 1, a giveaway with the Judge Dredd Megazine.
Ad blocker interference detected!
Wikia is a free-to-use site that makes money from advertising. We have a modified experience for viewers using ad blockers

Wikia is not accessible if you've made further modifications. Remove the custom ad blocker rule(s) and the page will load as expected.