Diderot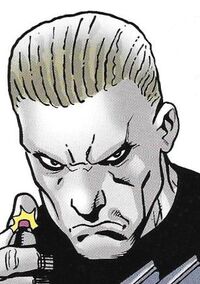 Characteristics
Unusual features
He's a cyborg
Status
Occupation
Missile specialist
Origin
Origin
Built by the Polity
History
Blond-haired, square-jawed Diderot (trooper first class) joined the reformed V.C.s in 2581 AD, to fight in the second Geek war. He replaced their previous missile specialist, Ronsalle, who had died in action. Diderot's first taste of combat was against what he thought were Mahis fellow humans: he, Major Smith, Kali, Lin-Fu and Ryx got into a fight in a pub on Mars, defending the Geek V.C. Keege against human xenophobes.
Diderot enjoyed playing a rude version of 'rock, paper, scissors' with Kali in downtime. When their ship crashed on Charon and Kali was tending his injuries she was disturbed to discover that he was a cyborg. So was he, because he hadn't had a clue. Diderot was subsequently awarded the G.C.C. (Global Combat Corps) Victory Cross for helping to warn Earth about a Geek planet-killing weapon lurking at the edge of the solar system, and imprisoned in Fort Bradford, a maximum security prison. There he tried to come to terms with the fact that all his memories of his childhood and youth were false, because he was in fact an "alien device" rather than a human. Major Smith petitioned the authorities for his release, but was unsuccessful. He did, however, manage to hand Diderot his G.C.C. Victory Cross in person, saying that he'd earned it.

Powers and abilities
Abilities
Shooting missiles; unarmed combat.
Strength level
Peak cyborg male.

Paraphernalia
Equipment
A spacesuit with his name on it; G.C.C. Victory Cross.
Transportation
Spaceship.
Weapons
Nova missiles.
Links
Discover and Discuss
Ad blocker interference detected!
Wikia is a free-to-use site that makes money from advertising. We have a modified experience for viewers using ad blockers

Wikia is not accessible if you've made further modifications. Remove the custom ad blocker rule(s) and the page will load as expected.