Digitek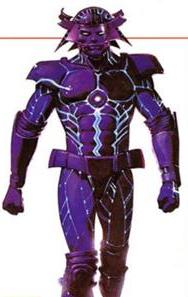 Real name
Jonathan Bryant
Relatives
Samantha Bryant (wife)
Characteristics
Status
Occupation
Superhero; former scientist
Education
Lots. They don't let just anybody be a scientist.
Origin
Origin
Industrial accident
First appearance
Digitek #1
History
Jonathan Bryant was a scientist working for the Nakasoni Corporation in London (actually a front for the Mys-Tech Corporation), where he developed Psi-Key, a computer which acted like a living brain. When raiders tried to steal Psi-Key, Jonathan was shot and fell into the dome containing the computer, which somehow downloaded part of itself into him, giving him superhuman powers. It was later revealed that Bryant, now called Digitek, was no longer really human, and when his original body was seemingly destroyed, he re-materialized as a computerized life-form apparently composed of electrical impulses. Digitek settled the score with Miracle Systems, who had orchestrated the theft of Psi-Key and the events which almost killed him, and has since been active as a superhero.

Powers and abilities
Strength level
Superhuman.

Notes
Digitek's original series was also published concurrently in the anthology title Overkill.

Trivia
Since the dissolution of Marvel UK, Digitek has been incorporated into the mainstream, American Marvel Universe, and has worked with Captain Britain and MI-13.
Links
Discover and Discuss
Ad blocker interference detected!
Wikia is a free-to-use site that makes money from advertising. We have a modified experience for viewers using ad blockers

Wikia is not accessible if you've made further modifications. Remove the custom ad blocker rule(s) and the page will load as expected.