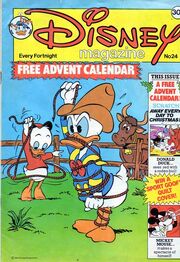 Disney Magazine
was an initially monthly and later fortnightly comic published by
London Editions Magazines
in the early 1980s which primarily featured rather simplistic adventures of Mickey Mouse and Donald Duck (European reprints). It had a limited provincial release from February 1982 to February 1983 (12 monthly issues) before being relaunched in March 1983.
Ad blocker interference detected!
Wikia is a free-to-use site that makes money from advertising. We have a modified experience for viewers using ad blockers

Wikia is not accessible if you've made further modifications. Remove the custom ad blocker rule(s) and the page will load as expected.