Doctor Sin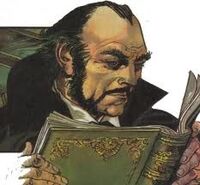 Relatives
Sin Tax (grandson)
Characteristics
History
Doctor Sin was an occult expert and demon fighter who had a largely undocumented career protecting Earth from incursions from the netherworld. Eventually, after his death, Sin's spirit contacted his grandson, a rapper named Sin Tax, and pretty much forced him to take on his mission and his name.
Powers and abilities
Powers
None known, though he
was
able to manifest as a ghost after his death.
Strength level
Of will, certainly.
Weaknesses
He's dead.

Notes
Not to be confused with Doctor Synne.
Links
Discover and Discuss