"Terrorformer (part one)"
Previous Issue
Next Issue
—
Appearing in "Terrorformer (part one)"
Featured characters:
Supporting characters:
Villains:
Rann-Korr, a Hyperion (big fiery alien demi-god)
Kano Dollar, a ruthless businessman
Other characters:
Zaxx, an egotistical terraformer
Clive, a robot
Eric, another robot
Clarence, a third robot
Alice Xanada, an alien newsreader (named spelled differently in next issue)
Spector, a professor
Doctor Scrofolus, an alien scientist
Locations:
Isen VI, a terraformed planet
Items:
Vehicles:
Synopsis for "Terrorformer (part one)"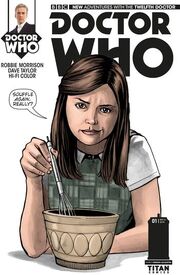 The Doctor and Clara go on a skiing trip, only to find that the world they've picked has been turned into a tropical paradise by an egotistical billionaire. And as if being dressed for sub-zero temperatures in the middle of a sweltering jungle wasn't bad enough, something alien and hostile has taken control of the terraforming process...
Notes
Trivia
Published with several variant covers.
Variant cover by Mariano Laclaustra (pictured) bears no relation to the story within but is nevertheless well-executed and amusing.
Recommended reading
Read Doctor Who: The Twelfth Doctor #2 to find out what happens next.
Links and references
Why not check out the Titan Comics website?
Ad blocker interference detected!
Wikia is a free-to-use site that makes money from advertising. We have a modified experience for viewers using ad blockers

Wikia is not accessible if you've made further modifications. Remove the custom ad blocker rule(s) and the page will load as expected.