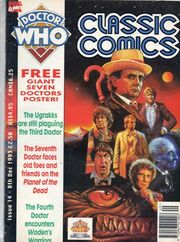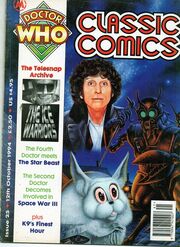 Doctor Who Classic Comics was launched by
Marvel UK
on 9th December 1992, and ran for 27 issues until 7th December 1994. A 52 page monthly magazine, it initially reprinted classic
Doctor Who
strips from
TV Comic
and
Countdown/TV Action
, though it later reprinted Marvel's own Doctor Who strips as well when the earlier material began to run out. It also reprinted the classic
The Dalek Chronicles
strip from
TV21
and ran a series of articles on Doctor Who comics, and in the ninth issue presented the 1965 Dell Comics adaptation of the movie 'Doctor Who and the Daleks' starring Peter Cushing. The magazine was a companion title to the long running
Doctor Who Magazine
and for a time, the two titles alternated in presenting excerpts from the 'telesnap archives' (photograpic reconstructions of sixties Doctor Who TV serials long since wiped by the BBC) in order to ensure that the readership of one of the titles would also pick up the other; a kind of 'crossover' never seen before!
In September 1993, a Doctor Who Classic Comics Autumn Special was published, featuring 'Evening's Empire', a story begun some time earlier for the regular Doctor Who Magazine but held back due to production problems. It was written by former Doctor Who TV script editor Andrew Cartmel.
Gallery
Ad blocker interference detected!
Wikia is a free-to-use site that makes money from advertising. We have a modified experience for viewers using ad blockers

Wikia is not accessible if you've made further modifications. Remove the custom ad blocker rule(s) and the page will load as expected.