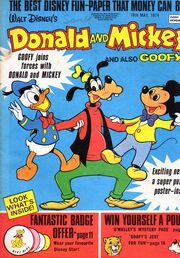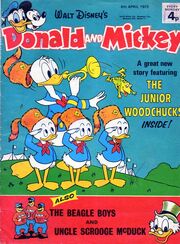 Donald and Mickey
was a title published by
IPC
magazines from 4th March 1972 to 29th August 1974 (182 issues in total) which contained a mix of some new material and reprinted American strips based on Walt Disney characters. From 18th May 1974 it incorporated another IPC Disney title,
Goofy
, becoming
Donald and Mickey and also Goofy
for the remainder of its run. A number of Holiday Specials and Christmas Specials were also published from 1972 to 1975. In 1974, the title became
Mickey and Donald
.
Ad blocker interference detected!
Wikia is a free-to-use site that makes money from advertising. We have a modified experience for viewers using ad blockers

Wikia is not accessible if you've made further modifications. Remove the custom ad blocker rule(s) and the page will load as expected.