Dr. X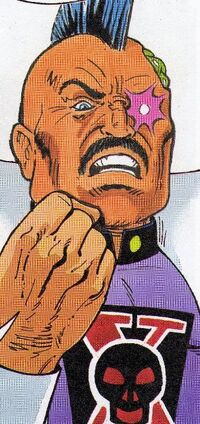 Aliases
Count Laszlo Huszar II; Dorian Exler
Affiliation
Council of Doom
Characteristics
Status
Occupation
Evil scientist
History
The mysterious Dr. X (whose real name has never been confirmed, some accounts claiming that he is Count Laszlo Huszar II and others Dorian Exler) is an evil scientist who has dedicated his life to the attempted conquest of the Earth. He has assembled a group called the Council of Doom to assist him in this (members include Professor Gangrene, No Face, Anti-Freeze and Tempest) as well as operatives such as Steel Dove but has so far always been stopped by Action Man and his comrades in the World Amalgamated Military Strike Squad and Action Force. On at least one occasion Dr. X was believed to have died, but he has always returned, sometimes with radically different looks. He also has a pet Komodo dragon named Dragon X. Aww, sweet...

Paraphernalia
Equipment
Bionic hand; bionic eye.
Weapons
Countless, many of his own design, including a robot duplicate of himself.

Notes
Dr. X was introduced as the main villain in the 1990s revival of the line of Action Man toys by Hasbro and subsequently appeared in both the the 1996 'Action Man Annual and the regular Action Man series from Panini UK, as well as the short-lived Tower Comics Action Man title which preceded it and various movies and animated TV series.

Trivia
Links
Discover and Discuss
Ad blocker interference detected!
Wikia is a free-to-use site that makes money from advertising. We have a modified experience for viewers using ad blockers

Wikia is not accessible if you've made further modifications. Remove the custom ad blocker rule(s) and the page will load as expected.