Droon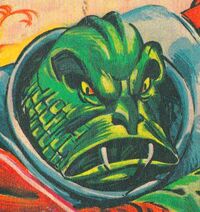 Affiliation
Interstellar Federation
Characteristics
Status
Occupation
Interstellar conquerors
Origin
History
The Droon are the baddies in the Starlord and 2000 AD strip Timequake. They were a race of green-skinned, four-armed aliens from a world near the star Rigel, who discovered the secrets of time travel and used the timestream as a staging post from which to attempt the conquest of Earth (and, presumably, other planets as well) at various points in history. They were opposed by the forces of Time Control, including James Blocker, Suzi Cho, Harl Vinda and Quexalcholmec.
The Droon were affiliated to the ultra-evil Interstellar Federation, whom Starlord founded his comic in order to deter from invading Earth. (Unbelievably, this worked.)

Powers and abilities
Abilities
Time travel; holding four weapons at once.
Strength level
Superhuman.
Weaknesses
Can be eaten by large carnivorous dinosaurs (see Starlord #2).

Paraphernalia
Transportation
Spaceships.
Weapons
Blasters.
Links
Discover and Discuss
Ad blocker interference detected!
Wikia is a free-to-use site that makes money from advertising. We have a modified experience for viewers using ad blockers

Wikia is not accessible if you've made further modifications. Remove the custom ad blocker rule(s) and the page will load as expected.