Duncan Pizer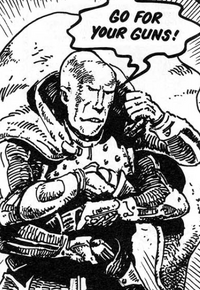 Characteristics
Status
Origin
History
Duncan Pizer was a criminal enforcer working for the alien superfiend known as Willy Blanko. When they parted, Blanko gave Pizer his cybernetic arms as a gift. However, they were primed to explode if anyone came asking about Blanko's location, a fact that was kept a secret from Pizer. Unfortunately for Pizer, Johnny Alpha and his partner Wulf Sternhammer did just this. After they defeated Pizer in a gunfight his arms began to glow ominously and subsequently exploded, disintegrating Pizer. Let that be a lesson to you, kids: never use second-hand limbs.

Paraphernalia
Equipment
An extra pair of cybernetic arms.
Weapons
Multiple blasters.
Links
Discover and Discuss
Ad blocker interference detected!
Wikia is a free-to-use site that makes money from advertising. We have a modified experience for viewers using ad blockers

Wikia is not accessible if you've made further modifications. Remove the custom ad blocker rule(s) and the page will load as expected.