Dutch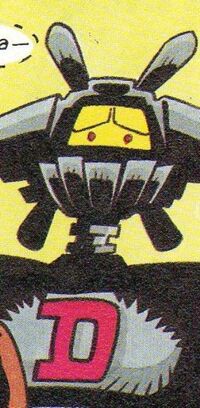 Characteristics
Unusual features
He's a wind-powered robot
Status
Origin
History
Dutch was a windmill-powered robot belonging to scrap dealers Flotsam and Jetsam of the Backwater Scrap and Salvage Company PLC. Dutch, who considered himself a living sculpture, was considerably more resourceful (and brighter) than his owners, and when they and the wandering time traveller known as The Doctor accidentally reactivated dormant Cybermen, Dutch was the one who saved the day. Twice. Hup Holland hup!

Powers and abilities
Powers
Provided by wind turbine.
Abilities
Can remain operational even when decapitated.
Weaknesses
Vanity.

Paraphernalia
Transportation
The starship Drifter.
Links
Discover and Discuss
Ad blocker interference detected!
Wikia is a free-to-use site that makes money from advertising. We have a modified experience for viewers using ad blockers

Wikia is not accessible if you've made further modifications. Remove the custom ad blocker rule(s) and the page will load as expected.