Eightball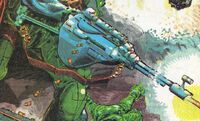 Affiliation
Genetic Infantry
Base of operations
Mobile
Characteristics
Unusual features
He's a digitised consciousness
Status
Occupation
Soldier; sentient gun
Origin
Origin
Created by the Clavel Corporation
History
Eightball was one of the second-generation Genetic Infantrymen slaughtered at Hill 392 during the 'war' on the world he knew as Nu Earth, which was actually a testing ground for weapons.
Friday, the second Rogue Trooper, the only G.I. to survive, took his deceased comrade's rifle as a memento, and some time later discovered that the minds of Eightball and his equally deceased comrades Top and Lucky had been preserved by the alien Scavenger of Souls as digitized consciousnesses on biochips. Friday rescued the biochips and slotted Eightball into his gun, which Eightball was able to operate with his mind.
Unfortunately, Eightball's mind was damaged by his new condition, and he regressed to a childlike personality, eventually deciding that the female G.I. Venus Bluegenes was his mother. Venus took custody of Eightball when Friday acquired the first-generation G.I. biochip named Gunnar.
Eightball was later captured and apparently 'killed' by the religious order known as the Karvanu, who bombarded his biochip with a barrage of conflicting sensory information which caused his digitized mind to shut down.

Powers and abilities
Abilities
Shooting.
Weaknesses
Infantile personality; obsession with Winnie the Pooh.

Paraphernalia
Equipment
The gun which contains/is Eightball is a Rheinmetall M-118A1 with AN/AAQ 14 targeting system and ballistic computer (according to
Gunnar
, who knows about these things).
Transportation
Carried around by Friday or Venus.
Weapons
He is a weapon.
Links
Discover and Discuss