Evans the Fist
Comments

0
975pages on
this wiki
Evans the Fist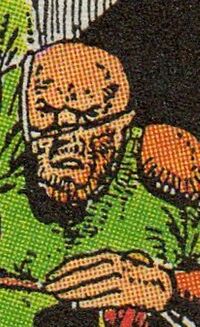 Real Name
Evans (full name unknown)
Current Alias
Evans the Fist
Base Of Operations
The Doghouse
Characteristics
Unusual Features
Evans' right arm is growing out of his head and is grossly oversized
Status
Origin
A mutant born in New Britain after an atomic war, Evans was (along with Middenface McNulty, The Torso from Newcastle and others) one of the generals in the mutant army which led an uprising against Nelson Bunker Kreelman and his anti-mutant policies in 2167AD. Following the war, Evans joined most of his comrades in becoming a Search/Destroy Agent-a mutant bounty hunter, or 'Strontium Dog'. His activities following this are largely unrecorded, but he did resurface to aid his former comrade Johnny Alpha against Kreelman when the villain reappeared looking for revenge.

Powers and Abilities
Edit
Strength level
Normal human.

Evans' right arm, which is extremely powerful, grows out of the side of his head as a result of his mutation.
Discover and Discuss
Edit