Doctor Necker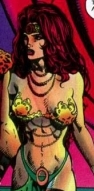 Real name
Evelyn Clarice Sarah Necker
Current alias
Doctor Necker
Characteristics
Status
Origin
History
Doctor Evelyn Necker was a scientist working for Advanced Idea Mechanics (A.I.M.), a group of technocrat terrorists, in an alternate version of the year 2020 AD. She created the cyborg called Minion, which due to an unexpected malfunction when it tried to absorb the skills of the mechanoid freelance peacekeeping agent named Death's Head, developed free will and was transformed into Death's Head II (Necker's first attempt at a cyborg had resulted in the creation of the creature called Death Wreck, which had not been an unqualified success either). Necker later involved herself with Death's Head II's subsequent adventures more than once, helping him to defeat the monstrous Charnel, an alternate future version of Death's Head who was threatening all reality. She later created the cyborg Death Metal, with predictably less than desirable results (some people never learn).

Powers and abilities
Abilities
Surprisingly skilled in both armed and unarmed combat.
Strength level
Human female who gets regular exercise.
Weaknesses
Strange obsession with death which suggests that she has the soul of a teenage Goth. Seriously, who calls a peacekeping robot 'Death's Head'?

Paraphernalia
Equipment
Various robots.
Weapons
See equipment.

Notes
Though Necker was created by Marvel UK, a younger version of her from the mainstream Marvel Universe was later (in 2008) seen as a supporting character in the American Marvel title Nova, working as a researcher at Project P.E.G.A.S.U.S. This younger Necker was said to be in the process of developing a cyborg called Minion...
Links
Discover and Discuss
Ad blocker interference detected!
Wikia is a free-to-use site that makes money from advertising. We have a modified experience for viewers using ad blockers

Wikia is not accessible if you've made further modifications. Remove the custom ad blocker rule(s) and the page will load as expected.