Faceache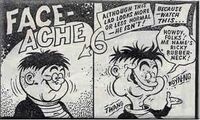 Real name
Ricky Rubberneck
Base of operations
England
Characteristics
Status
Origin
Origin
Normal human birth
History
Ricky Rubberneck, alias Faceache, was a young boy who had the apparently natural ability to 'scrunge' his face, and later his whole body, into a variety of hideous shapes at will. He would frequently transform himself into strange, seemingly extraterrestrial creatures in order to scare people.

Powers and abilities
Powers
Can change his shape at will.
Strength level
Juvenile human male.

Notes
Originally created by Ken Reid for the short-lived comic Jet, Faceache later moved into the pages of Buster until October 1988. Following Reid's death in 1987, Frank McDiarmid drew the strip for the remainder of its run.
Faceache was one of a number of IPC characters resurrected by America's DC Comics in the 2005 limited series Albion, though they had not acquired the rights to the names 'Faceache' or 'Ricky Rubberneck' and so he was given the 'real' name Fred Akely throughout. The series also gave him a girlfriend based on another of Reid's creations, Martha from Martha's Monster Make-up.
In early stories, Faceache refers to his power as 'scrunching' rather than 'scrungeing'.
Links
Discover and Discuss
Ad blocker interference detected!
Wikia is a free-to-use site that makes money from advertising. We have a modified experience for viewers using ad blockers

Wikia is not accessible if you've made further modifications. Remove the custom ad blocker rule(s) and the page will load as expected.