Fangor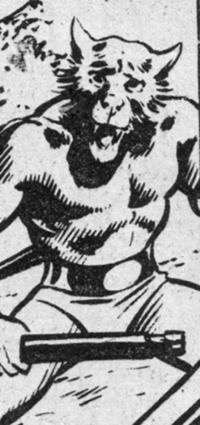 Characteristics
Unusual features
He's a human/wolf hybrid
Status
Origin
Origin
Genetically engineered
History
Fangor was a genetically engineered wolf-man who, along with his 'brother' Felix, served the insane Doctor Scarabeus. Fangor had a cowardly streak however, and when Tisha Scarabeus helped the Hulk to thwart the Doctor's plans, Fangor and Felix fled, leaving him at the mercy of his own rampaging 'Manimals'.

Powers and abilities
Abilities
Self-preservation.
Strength level
Probably superhuman.
Weaknesses
Fangor is a natural coward. (When confronted by the Hulk, that may count as a strength.)

Paraphernalia
Equipment
Fangor wore a pair of boxer shorts, indicating that Doctor Scarabeus was one of those people who like to dress their dogs in daft costumes.
Weapons
Fangs and claws.
Links
Discover and Discuss
Ad blocker interference detected!
Wikia is a free-to-use site that makes money from advertising. We have a modified experience for viewers using ad blockers

Wikia is not accessible if you've made further modifications. Remove the custom ad blocker rule(s) and the page will load as expected.