Feral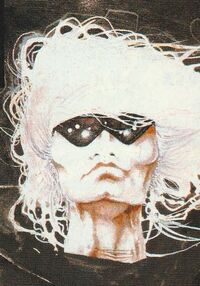 Relatives
Charn-El (father, deceased); Lady Anais Jackson (mother, deceased)
Characteristics
Status
Origin
Origin
Mutated by strontium-90
Place of birth
Milton Keynes
History
Feral was a wild, savage young mutant from the post-war world of the Strontium Dogs who became involved with Johnny Alpha during the events surrounding Lord Sagan's attempt to exile the mutant population of Britain to a hellish other dimension. Feral was with Alpha when he apparently died. According to accounts given at the time he returned alone from the other world, later travelling to Lyra, home of the alien necromancers responsible for Johnny's death, in the company of Johnny's former associate the Gronk.
More recent events though have suggested that the original account was at least partly falsified by Feral and that he and a mutant named Fish Wilson actually brought Alpha's apparently dead body home. Feral then apparently attempted to find a way of resurrecting Alpha, but was unwilling to trade his life to the alien Stone Wizards in return for Johnny's and, in the end, simply buried him under a tree on which he carved a suitable inscription.
Feral joined the Search/Destroy Agency as a 'Strontium Dog' (bounty hunter), but he was later tried and convicted of an unintentional multiple murder on an alien world where he was sentenced to death. (He'd sabotaged the engines of a starship so that it couldn't follow him after he'd stolen its cargo, but he didn't know what he was doing and the ship blew up.) Alpha's former friends Middenface McNulty and Precious Matson tracked him down. With the assistance of the planet's authorities they tricked Feral into believing that they were rescuing him, as this was the only way he would agree to give them the information they needed about Johnny's 'death'. After turning Feral back over to the authorities, McNulty and Matson left him to his fate.
The hapless mutant ended up being force-fed to the point of morbid obesity (thus losing his previous stick-thin figure and turning into a grotesquely bloated parody of his former self), having his nose cut off and being burnt alive. One can't help feeling that Wagner really had it in for Feral.

Powers and abilities
Powers
Feral could warp his body into an animalistic, inhuman state with fangs and claws, in which condition he was utterly savage and irrational. He did not, however, have control over the process.
Abilities
Proficient bounty hunter.
Strength level
Peak human or greater than human.
Weaknesses
Selfishness.

Paraphernalia
Equipment
Sunglasses; (latterly) Johnny Alpha's corpse in a box.
Transportation
Mostly starships.
Weapons
Guns and suchlike.

Notes
According to one account, which may or may not be true, Feral was the child of a British aristocrat and a Lyran sorcerer. Said aristocrat cheated on her noble husband with the sorcerer (summoned by ungodly rituals to alleviate the boredom caused by having too much money), was cast out of her mansion when she became pregnant, was taken in by mutants and died giving birth to Feral.
Links
Discover and Discuss
Ad blocker interference detected!
Wikia is a free-to-use site that makes money from advertising. We have a modified experience for viewers using ad blockers

Wikia is not accessible if you've made further modifications. Remove the custom ad blocker rule(s) and the page will load as expected.