Flamer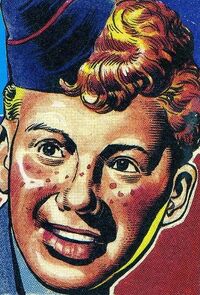 Real name
Christopher Spry
Base of operations
Space Command, Earth
Characteristics
Status
Origin
Origin
Normal human birth
History
Christopher 'Flamer' Spry was a junior cadet at the Astral Space Academy who became an unofficial member of Dan Dare's crew on several of their later missions.

Powers and abilities
Abilities
Making tea.
Strength level
Young human male who presumable gets regular strenuous exercise.

Paraphernalia
Transportation
Spaceships.

Notes
Flamer appeared in the Dan Dare series in both the Eagle in the 1950s and 1960s, and the New Eagle in the 1980s and 1990s. He also appeared in the Titan Comics version of Dan Dare.

Trivia
Flamer was based on Frank Hampson's son, Peter Hampson.
Links
Discover and Discuss