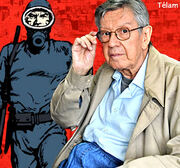 Francisco Solano Lopez (26th October 1928-12th August 2011) was a comics artist from Buenos Aires, Argentina, who entered the field in 1953 with the series
Perico Guillerma
. Acknowledged as one of the most influential Argentinian comic artists (at one point, he had to flee to Spain in order to avoid arrest, as his series
El Eternauta
touched on Argentina's volatile political situation), he also worked extensively for Britain's
Fleetway
comics such as
Valiant
,
Buster
,
Smash!
,
Knockout (IPC)
,
Score 'n' Roar
,
New Eagle
and
Lion
, on strips including
Adam Eterno
,
Kelly's Eye
,
Janus Stark
,
Master of the Marsh
,
Nipper
,
Pete's Pocket Army
,
Jet-Ace Logan
,
The Drowned World
,
Battler Britton
and
Galaxus: The Thing from Outer Space
. In the 1990s he branched out into the field of erotic comics, proving that his range really was pretty much unlimited.
Ad blocker interference detected!
Wikia is a free-to-use site that makes money from advertising. We have a modified experience for viewers using ad blockers

Wikia is not accessible if you've made further modifications. Remove the custom ad blocker rule(s) and the page will load as expected.