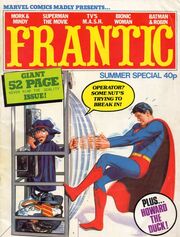 Frantic was a humour magazine launched by
Marvel UK
in March 1980, and ran for 18 issues until July 1981. The brainchild of editorial director Dez Skinn, it carried reprints from the Marvel US title 'Crazy' (created to be Marvel's answer to
Mad Magazine
) lampooning popular movies and TV shows of the time such as Superman, the Dukes of Hazzard, Mork & Mindy and Kramer vs Kramer, plus Marvel characters Obnoxio the Clown and Howard The Duck. Frantic was eventually merged with
Marvel Madhouse
. There were also two Frantic Specials, published prior to the launch of the magazine itself; a Summer Special in May 1979 and a Winter Special in October of the same year.
Ad blocker interference detected!
Wikia is a free-to-use site that makes money from advertising. We have a modified experience for viewers using ad blockers

Wikia is not accessible if you've made further modifications. Remove the custom ad blocker rule(s) and the page will load as expected.