Freaks was a six-part series by Peter Milligan and John Higgins which ran in 2000 AD progs 542 to 547 in October and November 1987. It told the story of a shallow, appearance-obsessed, not very bright Londoner named Carl Woolf who was abducted from the club scene by warlike three-eyed aliens from another dimension who wanted him to provide them with Earth's military secrets, and decided to dissect and pickle him when he proved not to know anything. Woolf's life was saved by Kilquo, daughter of the scientist Kilgo (who regarded the vain Woolf to be as hideous as he thought her), causing him to reconsider his values.
According to Milligan, "This was a period when shallow salesmen and everything they represented were at their height, that whole 80s Thatcherite Essex man epoch. The story was a reaction to that, in some extremely small way. There were also a few spooky little ideas about reality I wanted to fit into a story." (Thrill-Power Overload by David Bishop.)
The series eventually spawned a sequel, Faces, by Higgins and his wife, American writer Mindy Newell, in 2000 AD progs 1412 to 1419 (October to December 2004). Freaks was reprinted in Freaks Vol 1 1, given away free with Judge Dredd Megazine #364 in September 2015. Faces was reprinted in Faces Vol 1 1, given away with #365 the following month.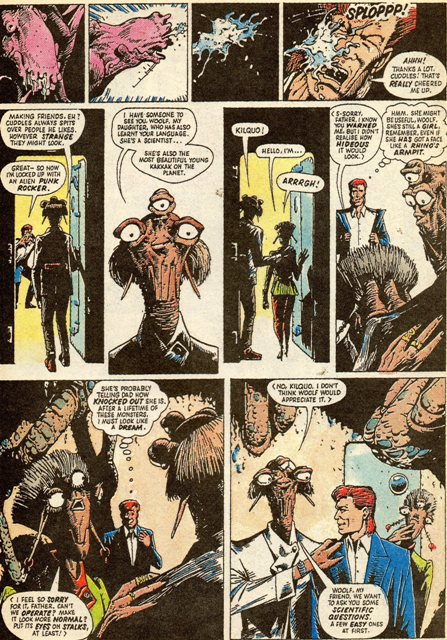 Ad blocker interference detected!
Wikia is a free-to-use site that makes money from advertising. We have a modified experience for viewers using ad blockers

Wikia is not accessible if you've made further modifications. Remove the custom ad blocker rule(s) and the page will load as expected.