Frobisher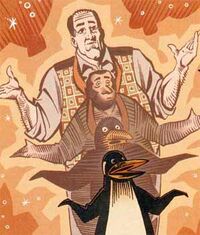 Aliases
Avan Tarklu; Bish
Relatives
Francine (ex-wife); Caralla (wife)
Characteristics
Unusual features
Is sometimes a penguin
Status
Origin
Place of birth
The planet Xenon
History
Frobisher, also known as Avan Tarklu (though it's probable neither is his real name) was a Whifferdill, a shape-changing humanoid (all but featureless in his natural form) from the planet Xenon who became a rather inept and downmarket private detective on a backwater world, spying on unfaithful spouses for a living. His wife, Francine (also a detective), left him because she felt that he was little more than a con man, and Frobisher's life was going downhill until he tried to collect a bounty placed on the head of the wandering Time Lord known as The Doctor by Josiah W. Dogbolter. Discovering that he rather liked his quarry, Frobisher assisted him against Dogbolter instead (the pair stealing the bounty money in the process) and became his travelling companion, discovering reserves of strength and courage he never knew he had... even when an attack of monomorphia left him stuck in the form of a penguin for several years!
Frobisher travelled extensively with the Sixth and Seventh Doctors (and, at times, fellow companion Peri Brown) until he finally left for a well-earned rest on the luxury resort planet A-Lux. Adopting a human form, he eventually settled down running a bar under the name 'Bish' (the bar was, logically enough, called 'Bish's') and marrying a woman named Caralla. The Eighth Doctor dropped in at one point, but neither of them recognised the other due to their drastically changed appearances.

Powers and abilities
Powers
Shape-shifting.

Notes
Frobisher habitually adopted an American accent, having based his private detective persona on old movies.

Trivia
Frobisher was one of the most popular characters in Doctor Who spin-off media, originating in the Marvel UK comic strip but eventually turning up in a number of Big Finish Audio stories (voiced by Robert Jezek).
Links
Discover and Discuss
Ad blocker interference detected!
Wikia is a free-to-use site that makes money from advertising. We have a modified experience for viewers using ad blockers

Wikia is not accessible if you've made further modifications. Remove the custom ad blocker rule(s) and the page will load as expected.