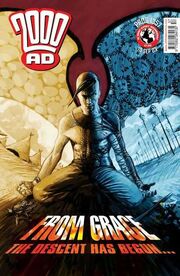 From Grace
is a comic strip by
Simon Spurrier
and
Frazer Irving
published in
2000 AD
progs 1357 (pictured) to 1361. It is collected in a trade paperback of Irving's stories called
Storming Heaven
, available
here
.
Spurrier says that the strip was published because of 2000 AD's openness to innovation and experimentation. "I wanted to play with some more storytelling gimmicks and had the idea of mucking about with time. How it ended up being about a winged tribe in a post-apocalyptic wilderness, I have no bloody idea. Every now and again an idea will come along which is so completely bat shit, you can't trace its source at all. The really notable thing about From Grace to me is that Frazer and I wouldn't have got away with that sort of head-scratching weirdness anywhere else, and it really seemed to pay off." (Thrill-Power Overload by David Bishop.)
Ad blocker interference detected!
Wikia is a free-to-use site that makes money from advertising. We have a modified experience for viewers using ad blockers

Wikia is not accessible if you've made further modifications. Remove the custom ad blocker rule(s) and the page will load as expected.