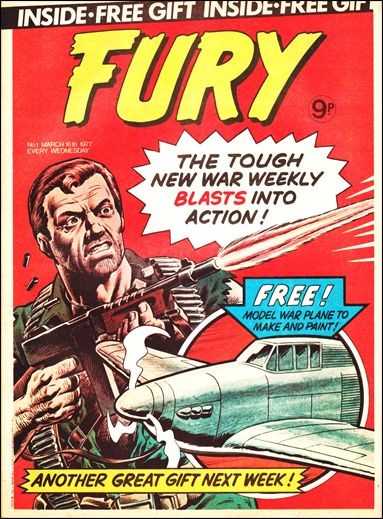 Fury
was a weekly comic published by
Marvel UK
from March 16th 1977 to August 31st 1977, running for a total of 25 issues in all. It featured 1960s reprints of American Marvel material starring
Sgt. Fury
and his Howling Commandos and others such as Captain Savage and his Leatherneck Raiders in World War II adventures, with new covers by artists including
Dave Gibbons
and
Carlos Ezquerra
.
A deliberate decision was made to emulate the look of British war comics such as Warlord, Victor and Battle Picture Weekly with a cheap newsprint cover (instead of the glossy covers then used on other Marvel UK weeklies) and the aforementioned original covers, the hope being that Fury would gain some of the readership of those comics. Unfortunately, afficionados of the gritty tales being told in Warlord and its ilk did not warm to Stan Lee's rather sanitised sixties stories, and the title lasted less than six months before being cancelled and merged with Mighty World of Marvel. A couple of years later, Marvel UK tried a slightly more successful variation on the theme with Forces in Combat, which also featured Sgt. Fury.
Ad blocker interference detected!
Wikia is a free-to-use site that makes money from advertising. We have a modified experience for viewers using ad blockers

Wikia is not accessible if you've made further modifications. Remove the custom ad blocker rule(s) and the page will load as expected.