Glenn's illustrations for the cover of 'The Little Green Tree' parts 1 & 2
"The Little Green Tree" Text & Illustrations © 2011 Glenn B Fleming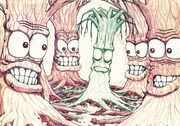 Glenn's original pencil illustration for the cover of
Crikey!
15, to support part 1 of Tony's article on the Daleks. Following the death of artist John Hicklenton, it was decided that the Dalek cover and article would drop back to issue 16 and artwork by John would appear on the cover of
Crikey!
15. However, issue 16 was then slated to be the very last issue of the series and so the article and cover were dropped altogether in favour of an appearance of Hatch. (Below, right): The unused, original
Crikey!
15 cover. The image had been passed for publication by both the BBC and the Estate of Terry Nation.
Ad blocker interference detected!
Wikia is a free-to-use site that makes money from advertising. We have a modified experience for viewers using ad blockers

Wikia is not accessible if you've made further modifications. Remove the custom ad blocker rule(s) and the page will load as expected.