Genghis Eighteen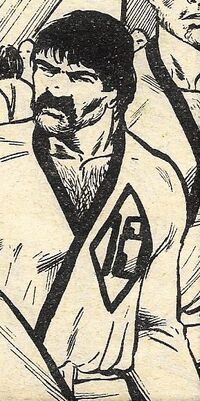 Real name
Genghis (surname unknown)
Current alias
Genghis Eighteen
Characteristics
Status
Origin
Place of death
Pacific island
History
Genghis Eighteen is a character from the 2000 AD strip Harry Twenty on the High Rock. His 'crime' was being a Mongolian man who refused to sell his family land to the military. In the dystopian Earth of the future this didn't go down terribly well, and he was sent to the orbital prison satellite called the High Rock for eighteen years on a trumped-up charge, there to eke out his life under the stern eye of Warden Worldwise.
On arrival Genghis attracted the unwelcome attraction of the racist Guard Pusser, who told him that he disliked "slants" and proved it by immediately putting him on an undeserved punishment detail. Genghis planned to get his revenge by stabbing Pusser with his lunchtime cutlery, but his cellmate Harry Twenty stopped him by punching him. This earned Harry the undying gratitude of Genghis when he realised that, had he succeeded in assaulting Pusser, the guards would have shot him dead.
Genghis became Harry's staunch comrade and helped him build an escape capsule in which they successfully returned to Earth. Unfortunately, he died shortly afterwards when their other cellmate and fellow escapee, Ben Ninety, turned out to be an android spy. But at least he found the rare mutated pearl known as a 'black Maria' before his death, so Harry could use it in his subsequent overthrow of the prison's brutal regime. Plus, his last deed was to fatally harpoon Guard Pusser. Which was awesome.

Powers and abilities
Abilities
Unswerving faith in his cellmate's ludicrous escape plan; the ability to make "phoney contact lenses" in the prison workshop.
Strength level
Human male who gets regular exercise (in prison gym).
Weaknesses
Can't tell when one of his cellmates is an android.

Paraphernalia
Equipment
Stolen from prison workshop.
Transportation
D.I.Y. escape capsule.
Weapons
Plastic knife from dining area; jury-rigged harpoon.
Links
Discover and Discuss
Ad blocker interference detected!
Wikia is a free-to-use site that makes money from advertising. We have a modified experience for viewers using ad blockers

Wikia is not accessible if you've made further modifications. Remove the custom ad blocker rule(s) and the page will load as expected.