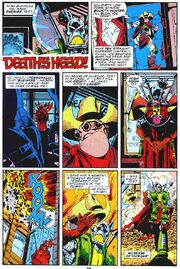 Geoff Senior is a British comics artist best known for his work for
Marvel UK
in the 1980s on titles including
Doctor Who Magazine
,
Action Force
,
Warheads
,
Spider-Man and Zoids
,
Battletide
,
Dragon's Claws
(which he co-created, with
Simon Furman
),
Death's Head
(which he also co-created with Simon Furman, in the one-off strip
High Noon Tex
, pictured on the right) and, perhaps most notably,
Transformers
#42-250 (also written by, yep, you guessed it, Simon Furman). He drew
Dark Angel
for Marvel UK's short-lived 1990s line of US format titles, and a number of American Marvel titles around the same time.
Away from Marvel, Senior worked on The Spiral Path in Warrior #3, and drew various episodes of Judge Dredd, Harlem Heroes, Tharg's Time Twisters and Tharg's Future Shocks for 2000 AD, as well as Judge Dredd, Lawman of the Future and the Judge Dredd Yearbooks.
Since the late 1990s, Senior has worked mainly in advertising. He has returned to comics on occasion, mostly for Transformers-related projects, and for online comic To The Death. Simon Furman describes Senior as having "that Jack Kirby-esque trait of just making even the quieter moments seem dramatic and full of a kind of coiled energy and tension." (Judge Dredd Megazine #380.)
Ad blocker interference detected!
Wikia is a free-to-use site that makes money from advertising. We have a modified experience for viewers using ad blockers

Wikia is not accessible if you've made further modifications. Remove the custom ad blocker rule(s) and the page will load as expected.