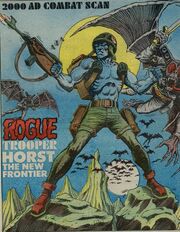 Gerry Finley-Day was a British comics writer active in the field from the 1960s to the 1980s. He began his career at
D.C. Thomson
before becoming editor of
IPC
's girls' title
Tammy
in 1971, writing several strips for it including
The Camp on Candy Island
,
Slaves of War Orphan Farm
,
Serfs of the Swamps
,
Father's Footsteps
,
Cross on Court
,
Rae Rules OK
,
Jaws Three
and
Ella on Easy Street
. He became deputy managing editor of the girls' comic department at IPC but resigned to become a freelancer, and in 1974 was hired by
Pat Mills
to help develop IPC's new war title
Battle Picture Weekly
, for which he would go on to write instalments of
Rat Pack
,
Bootneck Boy
,
D-Day Dawson
,
The Sarge
,
Return of the Eagle
,
Cold Steele
,
Sergeant Without Stripes
,
Action Force
,
Glory Rider
,
Cooley's Gun
,
Skreamer of the Stukas
and numerous others. He also created
Hellman
for
Action
; the strip later transferred to the pages of
Battle
after
Action'
s cancellation.
In addition to writing Dredger and Green's Grudge War for Action, Gerry Finley-Day also specialised in creating sympathetic, honourable German characters. Hellman is the best known of these, but Sea Wolf, Fighter from the Sky, Panzer G-Man and Commando King were among his other creations.
When IPC launched 2000 AD in 1977 Finley-Day soon become one of its mainstays, writing strips such as Dan Dare, Ant Wars, Invasion!, Disaster 1990, M.A.C.H One, Fiends of the Eastern Front, Harry Twenty on the High Rock, The V.C.s and the occasional Judge Dredd story, though he is best remembered as the co-creator of the original Rogue Trooper (along with artist Dave Gibbons).
He also worked on the short-lived Tornado title, writing episodes of Black-Hawk, and on the revived Eagle, for which he worked on Saddle Tramp, Jake's Platoon, The Hand, The Collector and Sgt. Streetwise, amongst others. He disappeared from British comics in the mid 1980s, apparently after disagreements with 2000 AD's editorial team, but returned to write a one-off Rogue Trooper story in 2010.
Pat Mills has written a blog post about some of 2000 AD's unsung heroes which mentions Gerry Finley-Day and can be found here.
Ad blocker interference detected!
Wikia is a free-to-use site that makes money from advertising. We have a modified experience for viewers using ad blockers

Wikia is not accessible if you've made further modifications. Remove the custom ad blocker rule(s) and the page will load as expected.