Gideon Otomo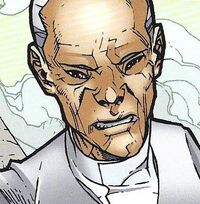 Base of operations
Hondo City
Characteristics
Status
Origin
Origin
Contaminated by alien DNA
Place of birth
Hondo City
History
Gideon Otomo is a villain from the Judge Dredd Megazine strip Hondo-City Justice. He used to be a normal science teacher until he got marooned on a deserted island after his marine biology field trip was hit by a tsunami. The island contained a crashed alien space ship with a cargo of robots which injected Otomo and three of his students with alien DNA. This gave them all paranormal abilities, with Otomo becoming a powerful psychic.
After being rescued, Otomo and his students kept the details of what had happened to them a secret. (The students had mutated into monstrous beings, but concealed their true appearances with hologram projectors.) Together they founded the Otomo Institute for Human Advancement, a school apparently intended to teach the best and brightest in the city how to become world-class entrepreneurs and public servants. In reality, Otomo was looking for congenital psychics whom he could groom to do his bidding once they had graduated and been accepted by the city's top organisations. They were his "living weapons" who would respond to the psychic commands he had implanted in them whenever he wanted to mount a coup... or possibly an alien takeover of the entire human race, as it was not clear how much of Otomo was human by then.
As he was trusted and respected by Hondo City's leaders, Otomo was allowed to help the Academy of Justice train psychic cadets who would be "the future of law enforcement in Hondo City." The first graduate of the 'Otomo programme' was Cadet Junko Asahara, who was handed over to Aiko Inaba for her year-long field assessment. Unfortunately for Otomo, the pair soon discovered what his real agenda was and killed his three lieutenants. Otomo tried to place Junko under his psychic control and force her to kill Judge Inspector Inaba, whom he had shackled. Junko responded by releasing Inaba and proving that she was more powerful than her ex-mentor by making his head explode.
To give Otomo his due, they do say that the mark of a good teacher is that his pupils end up surpassing him.

Powers and abilities
Powers
Psychic powers including telepathy and telekinesis.
Abilities
Teaching.
Strength level
Superhuman.
Weaknesses
Underestimates his pupils' strength of will.

Paraphernalia
Equipment
Manacles.
Transportation
He can levitate.
Weapons
His mind.

Notes
Otomo died in 2132 AD.
Links
Discover and Discuss
Ad blocker interference detected!
Wikia is a free-to-use site that makes money from advertising. We have a modified experience for viewers using ad blockers

Wikia is not accessible if you've made further modifications. Remove the custom ad blocker rule(s) and the page will load as expected.