Born in 1961, Glenn Fabry is a British comics artist with a keen eye for detail and a flair for creating realistic, highly textured pieces that pulse with dark energy, almost seeming to leap off the page. His career started in 1985 with a highly successful collaboration with
Pat Mills
, drawing
Sláine
for
2000 AD
. Glenn's careful and intricate style lent this sword-and-sorcery series a patina of realism that made its doughty warriors, perverse alien architecture and hideous eldritch monsters at times almost uncomfortably vital. He also did one episode of
Tharg's Future Shocks
and three episodes of
Judge Dredd
(following them up with the first episode of a
Batman
/Judge Dredd crossover in 1998) for
2000 AD
, and collaborated with Pat Mills on the newspaper strip
Scatha
. Unfortunately, only seven of the ten episodes produced of this so-called female
Sláine
were ever printed.
Having proved his talent for working in ink, Glenn then branched out into painted work for Crisis, Revolver and Deadline. Perhaps his most successful painted work was when he took over the covers of Hellblazer in 1991, winning an Eisner award for his efforts four years later.
Since then, Glenn's career, as rich and varied as his artwork, has gone from strength to strength. Some of his notable projects include the intriguing 'Destruction' story in Neil Gaiman's Endless Nights anthology (2003), a 2005 comics adaptation of the television series Neverwhere (also by Gaiman, although the comic is written by Mike Carey) and work for publishers such as Wildstorm, Vertigo and Marvel Comics.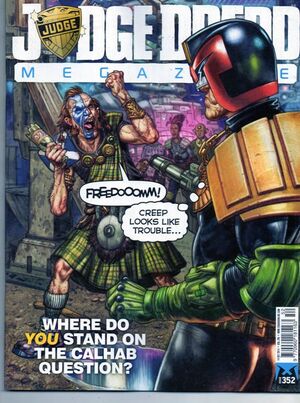 Ad blocker interference detected!
Wikia is a free-to-use site that makes money from advertising. We have a modified experience for viewers using ad blockers

Wikia is not accessible if you've made further modifications. Remove the custom ad blocker rule(s) and the page will load as expected.