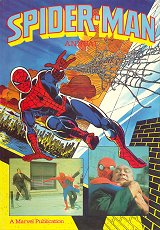 Founded in 1979 by former
Brown Watson
bosses Peter and Brian Babani, Grandreams produced annuals based on TV and film properties such as
Battlestar Galactica
,
Return of the Jedi
(reprinting the
Marvel Comics
adaptation),
M.A.S.K
,
Minder
,
The Hardy Boys & Nancy Drew
,
Knight Rider
,
Home & Away
(!),
T.J Hooker
and
Dallas
, as well as numerous annuals for
Marvel UK
(who were based in the same building,
Jadwin House
in Kentish Town, London; Grandreams were on the first floor, Marvel on the second). Their Marvel annuals obviously reprinted existing American material, but much of their other output featured original material by British artists, some of it fairly noteworthy in itself. It is unclear when Grandreams ceased trading.
Ad blocker interference detected!
Wikia is a free-to-use site that makes money from advertising. We have a modified experience for viewers using ad blockers

Wikia is not accessible if you've made further modifications. Remove the custom ad blocker rule(s) and the page will load as expected.