Gruff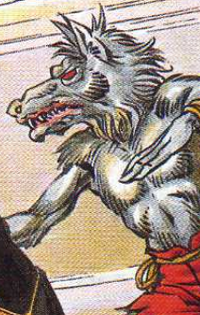 Affiliation
Ally of Nick Stone
Base of operations
Future Earth
Characteristics
Unusual features
He's a humanoid wolf
Status
Occupation
Freedom fighter
Origin
Origin
Genetically engineered
Place of birth
Future Earth
First appearance
Last appearance
History
Gruff the wolf-man is a character from the 2000 AD strip Meltdown Man. He was one of the Yujees, genetically engineered intelligent humanoid animals created as a slave race by the human masters of the dystopian future Earth discovered by Nick Stone.
Gruff, along with the cat-girl Liana and the bull-man T-Bone, joined Stone in his self-appointed mission to overthrow the mostly decadent and cruel humans and free the Yujees. He showed great bravery, initiative and honour in doing so, despite his originally defeated, frightened and servile personality when Stone first encountered him. He recruited numerous others to Stone's cause, including the tracker Billy the Pup, who had previously worked for the human overseer Leeshar, and Louis the Lionman.
Gruff remained in his newly freed world when Stone returned to his own place and time. Unfortunately, as Stone realised, Stone's return to the twentieth century might mean that his friend Gruff would never be born: "The Earth was struck by an asteroid which changed the future, but what if the asteroid was deflected? What if my story is believed and humanity is prepared for its coming? Then the future would change, and Leeshar would never have existed. Nor would Gruff, Liana, or T-Bone. You'll never know for sure, Stone... except that they'll always live on in your memory!"

Powers and abilities
Abilities
Gruff can run extremely fast, far faster than a human, and has natural weapons in his fangs.
Strength level
Probably superhuman.
Weaknesses
Existential uncertainty.
Links
Discover and Discuss
Ad blocker interference detected!
Wikia is a free-to-use site that makes money from advertising. We have a modified experience for viewers using ad blockers

Wikia is not accessible if you've made further modifications. Remove the custom ad blocker rule(s) and the page will load as expected.