Gunnar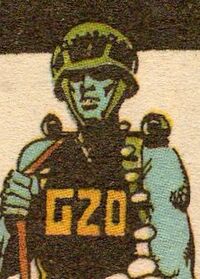 Base Of Operations
Mobile
Characteristics
Unusual Features
When corporeal, has blue skin
Status
Origin
Gunnar was one of the Genetic Infantrymen created by Milli-Com to fight the war on Nu-Earth. An unstable personality with violent tendencies, he was almost rejected by Milli-Com, but was eventually cleared for combat and dropped into the middle of what became known as the Quartz Zone Massacre, a traitor and Milli-Com having given the G.I's drop coordinates to the enemy. Gunnar died but, along with his buddies
Helm
and
Bagman
, his Biochip (a microchip in his brain which preserved his personality at the moment of death) was rescued by the
Rogue Trooper
and placed in a slot on his rifle until he could be 'regened' (gven a new body by Milli-Com). Gunnar joined Rogue's squad in their search for the traitor who had killed them.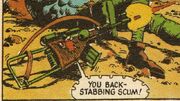 Later, Rogue lost the rifle and Gunnar was reclaimed by Milli-Com, who regened him. The new and improved Gunnar, who now had telekinetic abilities, returned to Nu-Earth to rejoin Rogue, unaware that he was himself being used to trap Rogue, who was officially a deserter. Rogue escaped but Gunnar lost his second body and wound up stuck in the rifle again, though now able to operate it telekinetically.
Years later, Gunnar and his buddies were again regened, this time as infants with supposedly no memory of their pasts. Somehow though, they were restored to adulthood and ended up working with Rogue again. When the squad encountered the second generation G.I named Friday, Gunnar was killed again in a firefight and ended up bio-chipped and back in the gun, and when Rogue apparently died soon after, Friday and his companion Venus Bluegenes 'inherited' Gunnar. He remained with Friday until the the conflict with the religious order known as the Karvanu, but the rifle containing Gunnar was eventually captured by the Karvanu. Gunnar's final fate remains unknown.

Powers and Abilities
Edit
Powers
Limited telekinesis

Gunnar's Biochip was numbered '2'. Helm's was '1', Bagman's '3' and it was eventually revealed that Rogue's was '4'.
Discover and Discuss
Edit