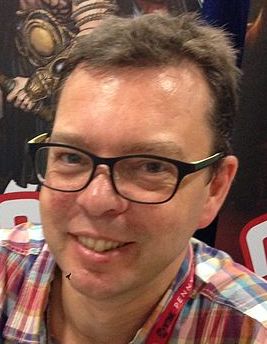 Henry Flint, whose website is
here
, is a British comics artist with a daughter called Rosalie. In 2004 he won the 'Best Comics Artist' award at the Diamond National Comics Awards. He drew an issue of
Death's Head II
for Marvel UK, but most of his work has been for the galaxy's greatest comic,
2000 AD
. Flint has drawn, among other things,
Rogue Trooper (Friday)
,
Venus Bluegenes
,
Sinister Dexter
,
Judge Dredd
, one of the storylines of
Trifecta
,
Missionary Man
,
Vector 13
,
Invasion!
 (in
3000 AD
, a free comic given away with prog 1034), 
Nikolai Dante
,
Sancho Panzer
,
Nemesis the Warlock
(
Book X: The Final Conflict
),
Deadlock
(a sequel of sorts to 
Nemesis the Warlock
),
Banzai Battalion
, 
Tharg the Mighty
,
ABC Warriors
,
Shakara
,
The V.C.s
,
Low Life
and
Zombo
.
Notes
When asked in an interview if he would ever be tempted by non-comics work, his response was as follows: "I've tried, I did the Marks and Spencer Halloween range 2001, a couple of weeks work which paid for my wedding (easy cash), but comics and the whole way they work just drags me back. I won't sell out! I won't sell out!!!"
Rob Williams says that "Henry is a bit of a genius, both in terms of design and storytelling, an aspect of his work that sometimes gets taken for granted because he's so good at it" (Thrill-Power Overload by David Bishop).
In the final part of Trifecta, drawn by Carl Critchlow, one of the Judges who came to the rescue was called Flint.
Ad blocker interference detected!
Wikia is a free-to-use site that makes money from advertising. We have a modified experience for viewers using ad blockers

Wikia is not accessible if you've made further modifications. Remove the custom ad blocker rule(s) and the page will load as expected.