Hitaki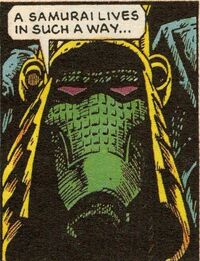 Characteristics
Unusual features
He's a robot
Status
Origin
Origin
Built by the Black Dragon Kai
History
Hitaki was a samurai robot, a comrade of Hammerstein and Mad Ronn in the Gothic Empire campaign. He was built by the Black Dragon Kai, a secret society dedicated to restoring the Japanese empire, and was programmed to act like the samurai and kamikazes of old. Hitaki was inducted into the newly reformed ABC Warriors by Nemesis the Warlock and served with them for a time, until he was killed by Mek-Quake, who crushed his central nervous system. Hitaki's severed head had just enough time to assure Hammerstein that he was prepared to die before his power finally ran out.

Powers and abilities
Abilities
Armed combat.
Strength level
Superhuman.

Paraphernalia
Weapons
Samurai swords; gun.
Links
Discover and Discuss
Ad blocker interference detected!
Wikia is a free-to-use site that makes money from advertising. We have a modified experience for viewers using ad blockers

Wikia is not accessible if you've made further modifications. Remove the custom ad blocker rule(s) and the page will load as expected.